We're very fortunate at JAX to have several musicians who provide live entertainment for our customers every day. Here's one of their stories.
Eric Wendorf
Talk about what you do when you're not playing at the airport.
When not at the airport, I am a swim coach and a world ranked competitive swimmer. The swimming has taken me all over the world, as has my performing. I've played in Uruguay, Argentina, Australia and Africa. I've also performed in a variety of venues throughout the United States, and of course, here in Jacksonville. That travel has influenced the instruments I play, which include the harmonica, didgeridoo, ukulele, mountain dulcimer and washboard to name a few.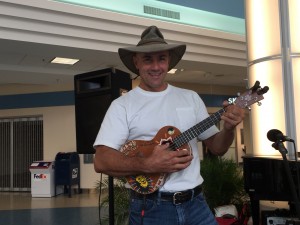 How did you get involved in the airport music program?
I first learned about the airport music program through Al Poindexter, a music partner for many years.
What keeps you coming back to play a non-paying gig?
The reason that I perform in the airport as a non-paying position is because it allows me to meet many wonderful people, perform in a beautiful setting and most of all make people relaxed and happy before or after their flights.

Share a favorite experience you've had at the airport.
My favorite moments when performing are when children come to the airport with the parents. Whether waiting for someone or a flight, nothing brings out the smiles and camera phones than children dancing the Hokey Pokey while I sing it loud. It gets even better when adults jump in!!

Connect with Eric on YouTube and his Website.