We're very fortunate at JAX to have several musicians who provide live entertainment for our customers every day. Here's one of their stories.
Road Less Traveled: Anne McKennon and Jeff Parker
Talk about what you do when you're not playing at the airport.
Anne: I work as a freelance performing musician, a composer, and I teach private flute and whistle lessons.  Along with that, I went back to school to get a degree in Music Theory and Composition which I expect to finish December 2016.  That makes for a very packed schedule.  Aside from that, I enjoy decorative painting, bake my own bread, and raise Monarch caterpillars to become butterflies in the back yard during summer.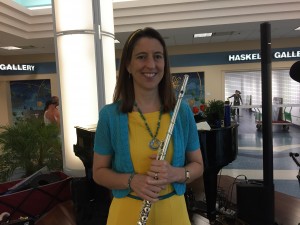 Jeff: I am a ship's captain and spent most of my career at sea, with a good bit of it running a fishing charter business. There are occasional opportunities to play music venues around the Jacksonville area and I spend a fair bit of time locating additional venues. I am retiring soon and hope to keep playing music until I can't anymore.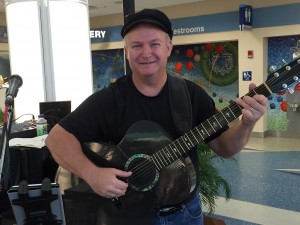 How did you get started playing your kind of music.
Anne: I play a variety of musical styles from orchestral flute work to rock and Irish jigs.  My mother taught me to read music at the age of 5 with some basic piano training.  I began flute at 11 in junior high school band.  Adulthood brought recorders, tin whistle, fife and voice.  I became part of my first acoustic rock band when I learned the "Moondance" flute line for an open mic in 2000, not long after singing in a church choir.  "My kind of music" is a little hard to pin down.
Jeff: I started playing the guitar in High School and played in the jazz band for two years.  I would sit in my bedroom when my brothers weren't there noodling to Neil Young, Jackson Browne, The Beatles etc. then I started working with a class mate who just came back from the army and we started a bluegrass string band called Surewood and played all around the Seattle area in the mid seventies.  I have always been a bluegrasser at heart but fingerstyle guitar really got my creative juices flowing.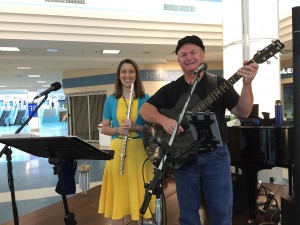 How did you get involved in the airport music program?
Anne: I began playing at the airport through Road Less Traveled.  Most of the time, we play the airport as a duo.  Honestly, it can be a long, lonely day playing solo.  We decided to try it out, so we contacted the airport & followed the process.
Jeff: I thought it was pretty cool that there was music 7 days a week there and so made the contacts for my duo Road Less Traveled and here we are.
What keeps you coming back to play a non-paying gig?
Anne: Mostly, it's a vehicle for keeping my chops up when gigs are few.  It allows me to try new music in public before an important concert and to keep past pieces under my fingers.   Furthermore, if I am going to be busking, the airport has high traffic flow, is climate controlled, and there is plenty of security nearby.  All of the people working at the airport have been very kind.
Jeff: It gives me an audience for new music and to keep my chops up when gigs are thin. It is good to play in a place that has high traffic and one of the perks is the air conditioning and the security.  I might add that it's gratifying to see smiling faces passing by when I am doing an original tune or an old standby.
Share a favorite experience you've had at the airport.
Anne: One was when a middle school flute student of mine came up to the airport just to hear my duo play.  Her mother believed in my work with her daughter so much that they spent part of their afternoon in the airport lobby with us. The other experience was right after I wrote "Sherwood Lullaby."  I wrote the song for my nieces.  My duo learned to play it and performed it for a family that was listening.  The mother was so touched she wanted a copy.  We had no recording of it at the time, but we do now.  (I have sheet music available too.)
Jeff: This summer, a family with a special needs son was listening.  The boy sat in a rocking chair directly in front of us saying, "I like it.  I like it."  Music reaches people. On another occasion, I was saluted by one of our armed forces personnel after doing a song that he particularly liked and it looked like he was being deployed and I wished him well.
Connect with Anne and Jeff at:
www.RLTSound.com
www.aemckennon.com
www.facebook.com/jeffparkersongwriter
www.reverbnation.com/jeffparkersongwriter