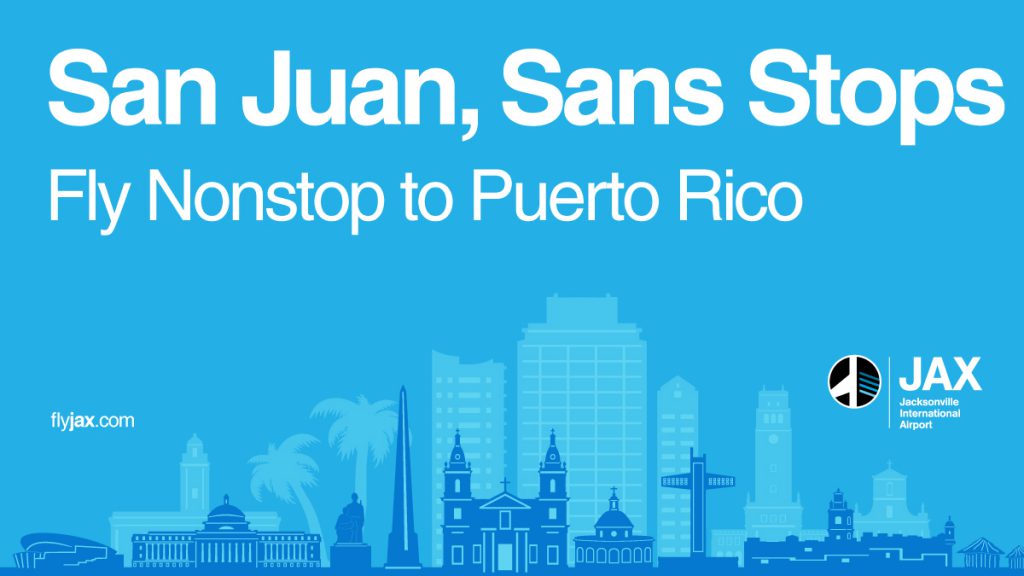 Frontier Airlines will offer new, nonstop service from Jacksonville International Airport (JAX) to Luis Muñoz Marín International Airport (SJU) in San Juan, Puerto Rico
starting November 1, 2021 with introductory fares starting at $69. Frontier's new service to San Juan will operate on Monday, Wednesday and Friday.
"We're thrilled to continue Frontier's remarkable growth streak with the announcement of new service from Jacksonville to San Juan beginning in November," said Daniel Shurz, senior vice president of commercial, Frontier Airlines. "We continue to focus on adding service to markets where our 'Low Fares Done Right' approach benefits customers and stimulates demand with affordable fares and convenient service."
"San Juan is easily one of our most requested nonstop destinations," Jacksonville Aviation Authority (JAA) CEO Mark VanLoh said. "Between Jacksonville's growing business ties with San Juan to the growing Puerto Rican population in Jacksonville, we believe this flight will be incredibly popular."
Within the last six months, airlines operating at JAX have announced new nonstop service to Austin, Ft. Lauderdale, Greenville-Spartanburg, Los Angeles, New Orleans, New York's LaGuardia Airport, St. Louis and Washington D.C.'s Reagan Airport.
Frontier Airlines provides seasonal and year-round service to Denver and Philadelphia. For fares, reservations, comprehensive flight schedules and more information, visit flyfrontier.com.
*About the Promo Fare Offer:
Fares must be purchased by 11:59 p.m. Eastern time on Aug. 9, 2021.  The following blackout dates apply: Nov. 18-30; 2021, Dec. 18, 2021– Jan. 4, 2022 and Jan. 14-17, 2022. Round-trip purchase is not required.
Discount Den fares are only available at FlyFrontier.com to Discount Den members. Join Discount Den here! Fare(s) shown include all transportation fees, surcharges and taxes, and are subject to change without notice until purchased. Seats are limited at these fares and certain flights and/or days of travel may be unavailable.
All reservations are non-refundable, except that refunds are allowed for reservations made seven days (168 hours) or more prior to departure and provided that a refund request is made within 24 hours of initial reservation.
Changes or cancellations made to itineraries after the 24 hours will be subject to change fees, and any fare differential. Learn more about Frontier's change policy. Previously purchased tickets may not be exchanged for special fare tickets. Flight segments must be cancelled prior to scheduled departure time or the tickets and all amounts paid will be forfeited.
Additional travel services, such as baggage and advance seat assignments are available for purchase separately at an additional charge. For a complete list of rules and regulations please refer to Frontier Airlines' Contract of Carriage and Terms and Conditions.