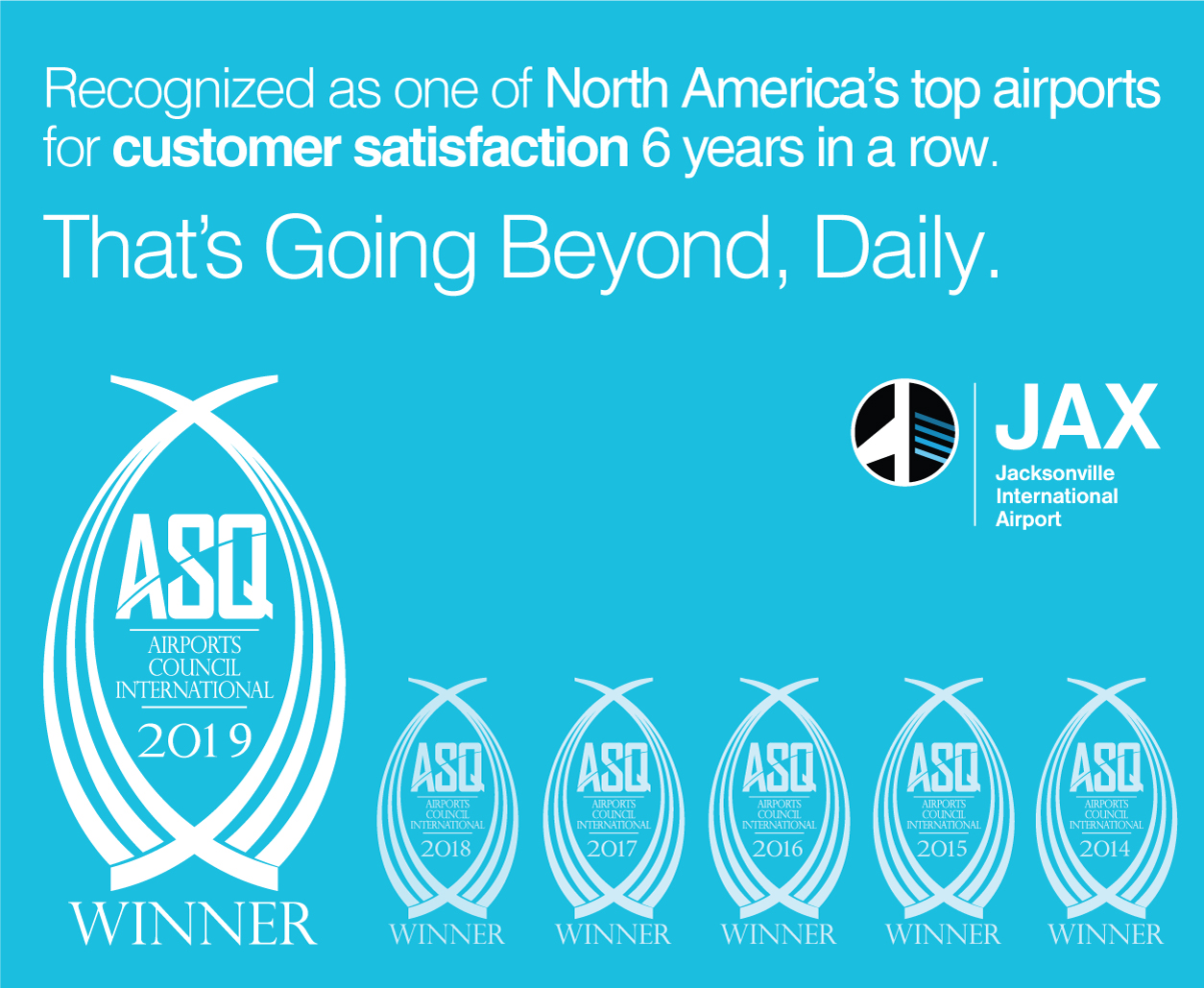 Airports Council International (ACI), the trade association of the world's airports, has selected Jacksonville International Airport (JAX) as one of 84 worldwide winners in its globally-renowned Airport Service Quality (ASQ) Awards.
JAX was recognized for Best Airport by Size and Region, ranking among the top three airports in North America serving between 5 million and 15 million passengers annually.
The Airport Service Quality program is the world's leading airport customer experience measurement and benchmarking program. The ASQ Departures program measures passengers' satisfaction across 34 key performance indicators. In 2019, more than half of the world's 8.8 billion travelers passed through an ASQ airport.
"The Airport Service Quality Awards represent the highest possible recognition for airport operators around the world and recognize excellence in customer experience," said ACI World Director General Angela Gittens. "The awards this year have been won by a diverse group of airports, which illustrates the industry-wide commitment to delivering exceptional customer experience, an important business strategy in an increasingly competitive airport industry. ACI's global ASQ program is the only one that not only recognizes excellence but also provides airports with objective measurement and benchmarking to help drive their performance."
"In a year of record-breaking passenger traffic, our airport community was able to overcome challenges inherent to such growth," Jacksonville Aviation Authority CEO Mark Van Loh said. "To be acknowledged as one of North America's best airports is a testament to our customer service focus."
About Airports Council International
Airports Council International (ACI), the trade association of the world's airports, was founded in 1991 with the objective of fostering cooperation among its member airports and other partners in world aviation, including the International Civil Aviation Organization, the International Air Transport Association and the Civil Air Navigation Services Organization. In representing the best interests of airports during key phases of policy development, ACI makes a significant contribution toward ensuring a global air transport system that is safe, secure, efficient and environmentally sustainable. As of January 2020, ACI serves 668 members, operating 1979 airports in 176 countries.