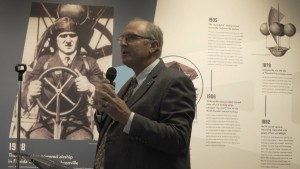 On October 23, 2017, Jacksonville International Airport (JAX) hosted a 50th Anniversary kick-off celebration at the Aviation Gallery. JAX opened its doors in 1968, and we will celebrate with the community, our staff and tenants over the coming year, culminating with a grand celebration gala on October 11, 2018.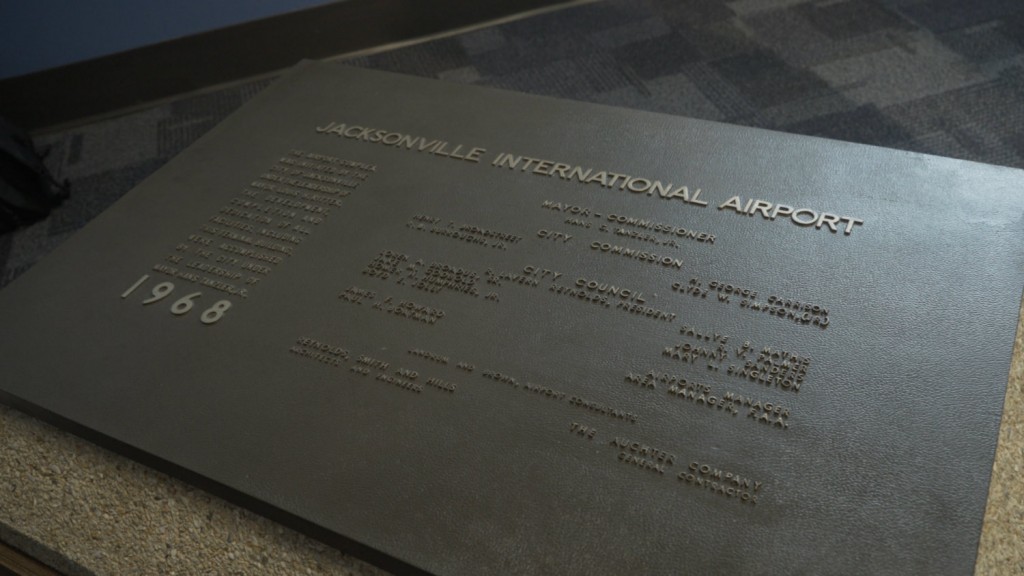 During the event, the first Aviation Gallery Hall of Fame Honorees were announced to a crowd of previous JAX patrons, current and former Board Members and City Council members, JAA staff, archive contributors, family and friends.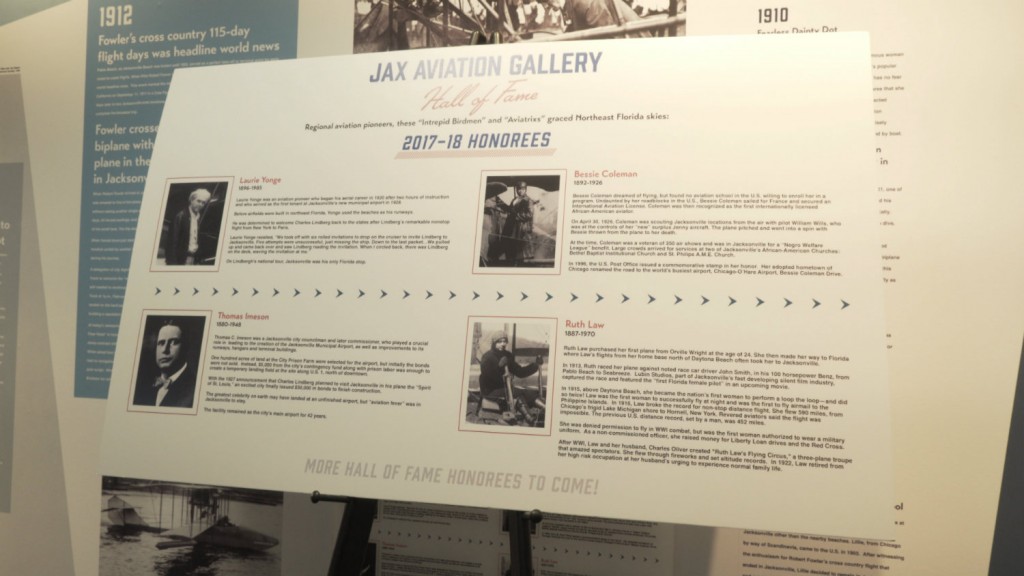 These first inductees into the JAX Aviation Gallery's Hall of Fame played an important role in aviation history.
Bessie Coleman, 1892 – 1926, was the first black woman to earn a pilot's license. Because flying schools in the United States denied her entry, she taught herself French and moved to France, earning her license in just seven months from France's well-known Caudron Brother's School of Aviation. Coleman specialized in stunt flying and parachuting, earning a living barnstorming and performing aerial tricks. She remains a pioneer of women in the field of aviation. She tragically died in Jacksonville on April 30, 1926, when she was thrown from her aircraft while preparing for a flight demonstration.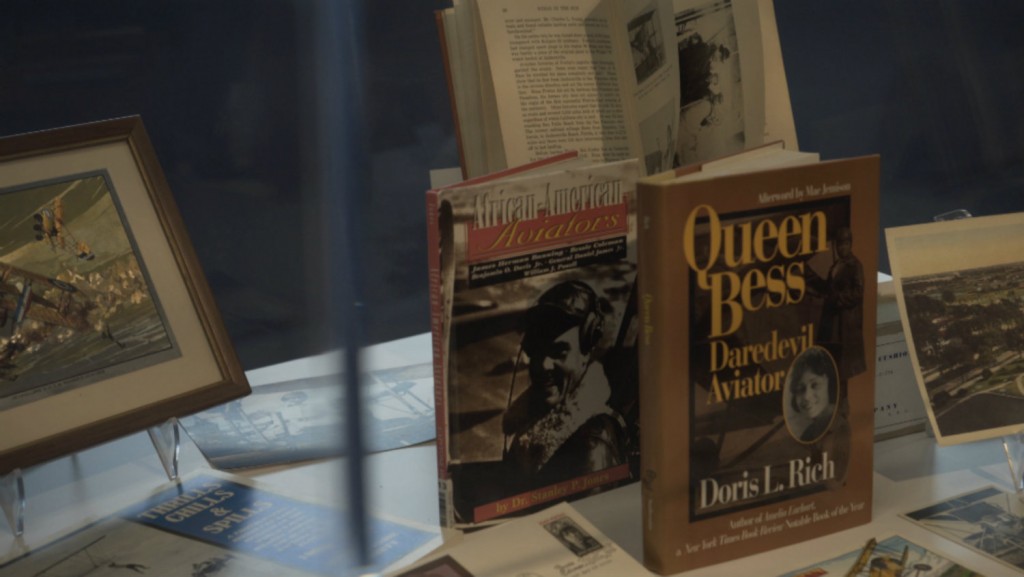 Ruth Law, 1887-1970, who lived and trained in Jacksonville, enjoyed one of the longest and most colorful careers of early female aviators. She bought her first aircraft from Orville Wright in 1912 in which she became the first woman to fly at night. In 1916, Law broke the American cross-country and nonstop record on a flight from Chicago to New York, and had the honor of carrying the first official air mail to the Philippine Islands in 1919. In 1917, she was the first woman authorized to wear a military uniform, but was denied permission to fly in combat. After the war, she formed "Ruth Law's Flying Circus," a three-plane troupe that amazed spectators at state and county fairs by racing against cars, flying through fireworks, and setting altitude and distance records.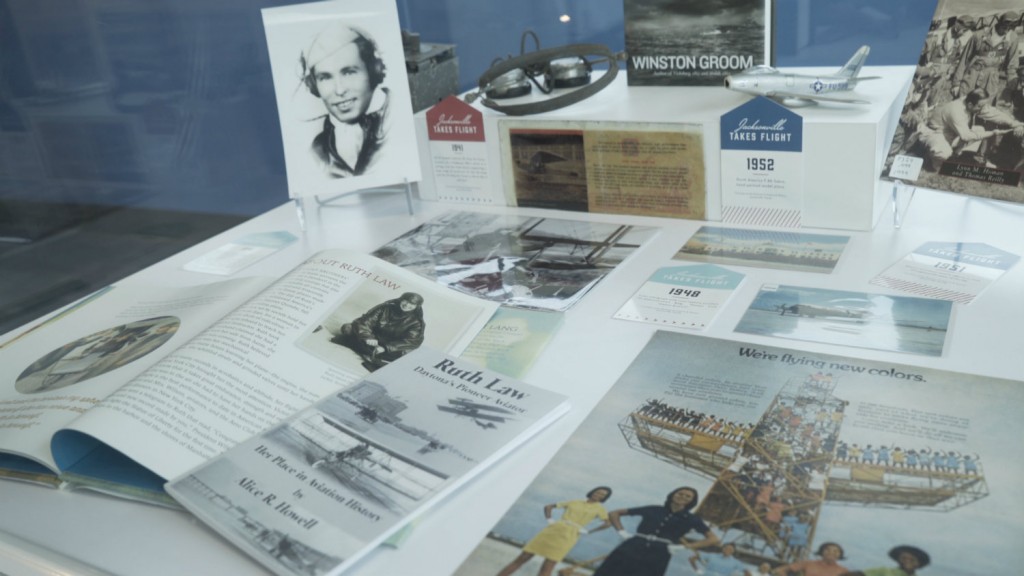 In 1923, a local pilot named Laurie Yonge, 1896-1985, offered airplane rides from the beaches. Rates were $5 for short hops, $10 for long rides, and $25 for aerobatics. His transport pilot license was the first issued in Florida, and his National Aeronautics Association card was signed by Orville Wright. In 1929, Yonge set the world's lightplane endurance record in a 90 hp. Curtiss Robin. He flew continuously for 25 hours and 10 minutes, a record that stood until 1939. For many years, Yonge was Jacksonville's official Santa Claus, arriving by amphibious aircraft for the downtown Christmas parade. No other aviator has brought such fame and success to Jacksonville both as a visionary pioneer and instructor pilot.
Jacksonville Municipal Airport Number One opened on October 11, 1927. Charles Lindbergh, who flew to Jacksonville in the "Spirit of St. Louis", attended the dedication ceremony to promote the new airport, Jacksonville's aviation industry and assure city leaders that passenger air service would span the nation. In the 1950s, the facility was renamed after Thomas Cole Imeson, 1880-1948, city councilman and later longtime commissioner in charge of airports and highways. Imeson's work led to the creation of Jacksonville Municipal Airport, as well as improvements to its runways, hangars and terminal buildings. This facility was the city's main airport for 42 years.
Be sure to come see the Aviation Gallery the next time you are at JAX, and explore the rich aviation history that Jacksonville has to offer. The second phase of the gallery is planned to open in the Fall of 2018, in conjunction with our grand 50th Anniversary event.
If you or someone you know was involved in the beginning of JAX, please reach out to us at wendi.howard@flyjacksonville.com