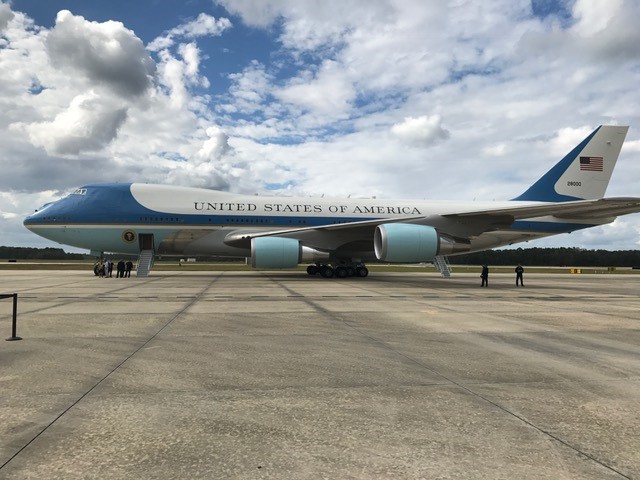 Air Force One is arguably the most recognizable aircraft in the world. Emblazoned with the Presidential seal and American flag; Air Force One projects freedom and liberty across the globe as it transports the President of the United States. "Air Force One" is actually an air traffic call sign given to any United States Air Force aircraft transporting the President of the United States. Various aircraft have taken on the role of Air Force One including propeller driven aircraft like the Douglas C-54 and Lockheed C-121 Constellation. In the late 1950's Air Force One entered the Jet Age under President Eisenhower as the Boeing 707 was added to the presidential air fleet. Today, the Air Force maintains two Boeing 747-200's (VC-25A) specifically designed to carry out the mission of transporting the President of the United States.
Both Boeing 747's designated as Air Force One are maintained by the 89th Airlift Wing at Joint Base Andrews, Maryland. A force of more than 1100 personnel carry out the mission of enabling national interests through global transportation for America's senior leaders; "Safe, comfortable, reliable, connected and protected!"1 Twenty-six crew members fly aboard Air Force one on each flight fulfilling the role of pilot, engineer, navigator, maintenance, and even the role of chef. Each crew member is tasked to ensure each flight is carried out with the highest levels of excellence.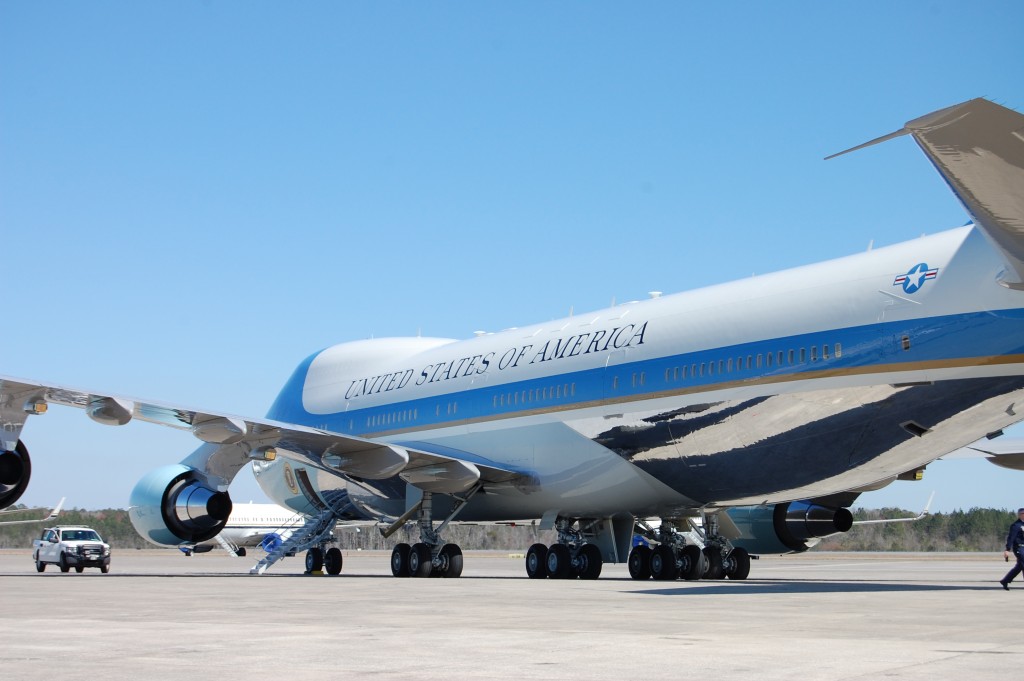 Each aircraft is equipped with special capabilities to safeguard the President and make certain each mission is successfully completed. For instance, Air Force One can be refueled in flight making lengthy or risky fuel stops unnecessary.2 Air Force One is equipped with a full service kitchen capable of preparing 100 meals at a time. A special pantry of groceries is kept stocked in case the President requests a specialty meal.3 Air Force One is also equipped with a medical suite outfitted with an operating table, medications, and crash cart. This mobile facility acts as an urgent-care center complete with a traveling medical team.4
Air Force One was built in close cooperation with the Boeing company to ensure the business of the White House was carried out while the President is traveling. "Inside, the President and his travel companions enjoy 4,000 square feet of floor space on three levels, including an extensive suite for the President that features a large office, lavatory, and conference room."5 Secure phone lines and video conferencing equipment keep the President readily available to respond to any event.
On September 11th, 2001 Air Force One proved itself as a mobile bunker for the President. As the events of that morning began to unfold there were reports that Air Force One itself could be an airborne target for terrorists. As Air Force One departed Sarasota, Florida, Colonel Mark Tillman began a route over the Gulf of Mexico to Offutt Air Force Base in Nebraska. Flying at Mach .92 the F-16 and F-15 fighters scrambled to escort Air Force One struggled to catch up. By the end of the day Air Force One safely landed at Joint Base Andrew with all 65 passengers, crew, and press.6
                    The Future of Air Force One is currently taking shape. The Boeing Company was recently granted the contract for engineering and design on the next generation Air Force One. Scheduled to be delivered in 2027, Boeing will design two 747-8's to meet the requirements of the Air Force and White House for the President's transportation. Boeing has a very rich history developing Air Force One spanning over half a century and 11 Presidents. As Air Force One continues to fly it will stand as a global symbol of America's leadership and power.
[1] http://www.jba.af.mil/About-Us/Fact-Sheets/Display/Article/336383/89th-airlift-wing

[2] https://www.whitehouse.gov/1600/air-force-one
[3]http://abcnews.go.com/Politics/photos/10-incredible-meals-served-air-force-30702857/image-30703307
[4] http://www.cnn.com/2004/HEALTH/09/23/wh.doctors/
[5] https://www.whitehouse.gov/1600/air-force-one
[6] http://www.politico.com/magazine/story/2016/09/were-the-only-plane-in-the-sky-214230