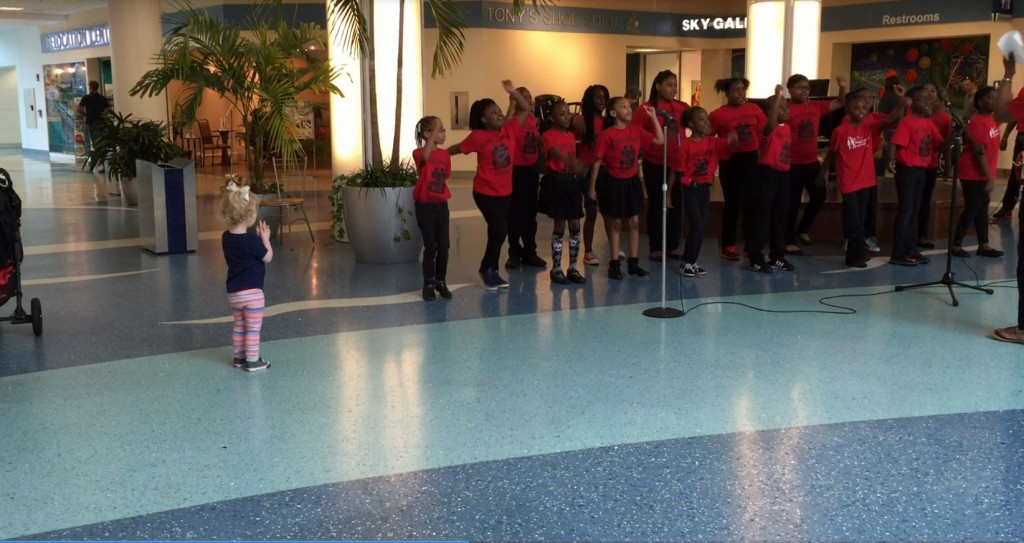 Last week passengers arriving to attend THE PLAYERS Championship were treated to groups of area students singing, dancing and playing instruments.
By popular demand, the long standing tradition of the two week Holiday Music Program was expanded several years ago to include one week in the spring. The timing of THE PLAYERS in May fit well for those schools who had spring music programs to share at the airport.
Schools from around the region performed their spring programs in the center courtyard of the airport. Robert E. Lee High School, Julington Creek Elementary, Victory Christian Academy, Biscayne Elementary, Pine Forest Elementary, Christ's Church Academy and 15 year old soloist Catalina Hill, demonstrated their wonderful talent to harried travelers and fans arriving to attend the golf championship. Many stopped for a few moments to listen to a familiar song or watch the precision of the young steppers.
"The children LOVE performing at the airport!" said Kathe Isabelle, teacher at Julington Creek Elementary. " They LOVE the atmosphere, and some have never been there before or flown before.  It is their favorite place to perform."
Here are some highlights for your viewing and listening pleasure!