As Marketing & Community Program Manager, one of the best parts of my job is working with our volunteers. In a recent conversation, Morton Perry expressed his love of performing at JAX and shared these words with us.
                              Reflections of a JAX Volunteer                           
by Morton Perry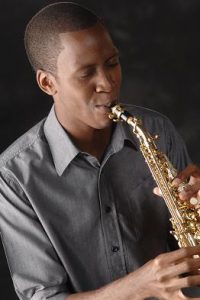 I am a volunteer musician who enjoys playing music in the Jacksonville International Airport (JAX) terminal courtyard. I started off as a nervous kid who just wanted to get out of his comfort zone and gain confidence in playing out in public. Since my beginning in 2011, I feel as though I have earned an honorary college credit studying the relationship between live music and the minds of traveling people. In this blog, I would like to share my personal perspective on how live music enhances the total customer service experience of traveling people at JAX.

A word of thanks
I must begin by expressing my sincere appreciation for all the people who make what I do possible month after month. Thank you to the outstanding leadership and trailblazing legacy of Debbie Jones as well as the awesome, ongoing leadership of Wendi Howard. I know that I speak on behalf of all the musicians who volunteer alongside me when I say, we salute the TSA, the equipment/facility maintenance team, the administrative leadership, the ambassadors, the vendors, the airline personnel, the operations team, the JAX police and every department for showing your love. To everyone employed by and/or associated with Jacksonville Aviation Authority, who have shown their support towards me and fellow musician volunteers over the years, thank you so very much. Thank you for all of your smiles, your conversations, handshakes, high fives, and fist bumps. Thank you for all the little things you do to affirm that our music is well received. Thank you for all your thoughtful gestures of support, your encouraging words, and your generous tokens of appreciation. Thank you for bearing with us whenever we played a sour note or whenever we may have missed a beat. Personally, I believe it takes a village to raise a saxophonist, so thank you for being my village. I extend a special thanks for sustained support and creative collaboration among leaders like Bryan Long, Michael Stewart, Mark VanLoh, Greg Willis, Terry Dlugos, and others who work diligently behind the scenes to keep music in the hearts of JAA employees, tenants, vendors, and the traveling public. Please know that your synchronized efforts across departments help the musician to feel, to do, and to be their best. We simply cannot thank you enough…
Inspired as a volunteer
It is my understanding that the JAX live music program began with only one musician during the season that the City of Jacksonville hosted the Super Bowl in 2005. Fast forward to 2020 and the program has expanded to include a variety of local talent which include entertainers, orchestra members, music educators, Grammy-nominated, and professional award-winning musicians. Each day presents a fresh bounty of potential networking and gig opportunities for musicians both within northeast Florida and beyond. Although my academic studies and work took me away for long periods of time during those 9 years, I always found a way to get back volunteering music at JAX; a gig that I have grown to love.
The spirit of community
So what kind of music do I play? I could say that I play a vast repertoire of popular American melodies, instrumental hymns, and original compositions on the saxophone, but, that really wouldn't tell you much. I strive to play the kind of music that moves us, the kind that makes a lasting impression on people, no matter who they are or where they come from. Why do I love playing at JAX? Well, I do it for the people. I do it for the emotional father who once told me that while he was saying his final goodbyes in the terminal while seeing off his teenage daughter who was flying alone for the first time, simply stated "my music was perfect for that moment". I do it for the people like the mature couple who, while waiting patiently in the rocking for their adult child and grandchild to arrive from an inbound flight, took the time to sweetly say "thank you for sharing your music with us". I do it for the people who never saw or heard a soprano saxophone. I do it to see the little ones bust out their little happy dance and ballerina twirls…. I do it for the sake of nurturing and celebrating a spirit of community that connects us all and that goes beyond words.
The challenge
I salute my fellow music professionals who have elected to participate with the JAX live music program. I believe it is an invaluable service offering, especially amidst the present challenges that we are facing as a nation. I like to think that what we do helps to reduce stress, promotes mental relaxation during these challenging times. Integrating the "human touch" of live music as opposed to only having music that is piped through an intercom system is to me, the smart, cost-effective way to provide tremendous value to the stakeholders of any business. Here at JAX, neither lengthy wait times nor brief visits in the terminal have to be mundane or uninspiring. As receiving tips is never guaranteed, I am primarily motivated by the hope of making a positive impact on someone's day. The thrill I get when see that one person was blessed or touched by my music is similar to me scoring a half-court shot to win a championship basketball game having only a few seconds on the clock to work with. If just one person is blessed by my music, then I did my job.
Hear a little, there a little
Fine arts in public venues can serve as an effective catalyst to enhance emotional well-being. "Busking" or street performing gigs presents the musician with the challenge of entertaining large crowds of people who each have extremely limited time frames to stay and listen due to the high degree of foot traffic through that particular performance area. To capitalize on these brief encounters, a musician must be flexible with their setlist. Some of the best-rehearsed plans must sometimes be placed on the back burner in order for the musician to be most responsive to the diverse sensitivities and emotional dispositions of the crowd. As not to test the patience of our listening friends and neighbors in the vicinity, we musicians have to maintain control of the spigot of our musical passion so that things do not get too loud, too fast, or too overwhelming. I think the JAX terminal courtyard presents the musician with two "listener types" in the audience; the seated and the actively mobile. The listeners who remain seated for long durations have often expressed that they enjoy the performances as a "mini-concert" experience. Those travelers passing through the wide-open lanes of the foot traffic have often expressed their enjoyment through pausing to applause, cheer, take selfies, or even strut to the rhythm of the music. The overall design and positioning of the stage in the courtyard give musicians an acoustical advantage which enables us to maintain social distancing without feeling like the quality our performance will be diminished in any way. I have been told that the live music dynamic provides a welcome break in the monotony of a traveler's day.
The passion you can see, touch, taste, and smell
If you were to stand in the middle of the stage for a couple of hours on any given day, let me tell you what you will see. Of course, you'll see me and other performers like me just playing and/or singing our little hearts out. After you notice the musician's passion, you will soon notice another kind of passion for the exhibition. You will notice an entire corporate culture where the passion and enthusiasm for delivering excellent customer service exude from just about everyone wearing a badge. You will see excellence in operation across all JAX departments. You will see it reflected in the hospitality of our airport ambassadors. You will see in the way Francois Beuse gives instructions about retrieving a lost item. You will see it reflected through the great attention to detail among facility maintenance team leaders like Michael Bolden and Lewis Cherry. You will see it in the responsiveness airport police officers like Ike Brown. You can feel it reflected in the empathy that our operations team shows towards the distressed as they bring resolve to an incident. You can taste it Sam Sneads and smell it at Starbucks. The passion to go the extra mile to see the extra smile is what makes JAX excellent. I hope that my music is in service to that same goal.
In Conclusion
It is fascinating to see how people respond to live music while they are in a mode of transition. With having one eye watching their clock and the other eye on me performing on the courtyard stage, I am blown away every time anyone goes out of their way to express their appreciation for the music. I thank God for my gift of music and the opportunity to share it. At times, I feel something like a local cultural ambassador as I am honored to be one who is fortunate to provide a small taste of our robust local music scene. As the performing arts will continue to impact in tourism throughout northeast Florida and southeast Georgia (the community), every traveler in every airport system in every corner of our sunshine state simply must have the JAA experience.
To contact Morton Perry, please email atmospherictherapy@gmail.com
To learn more about the Volunteer Programs at JAX, please contact Wendi Howard at Wendi.Howard@flyjacksonville.com