The Jacksonville International Airport Management Council (JIAMC) is currently hosting their annual Christmas Tree Decorating Contest for the Dreams Come True foundation in the terminal.  The JIAMC has raised close to $60,000 for Dreams Come True since partnering with the organization in 2003.  More than 15 children have seen their dreams come true thanks to the JIAMC and their annual contest.  Dreams Come True is the First Coast's only locally based nonprofit organization dedicated to using the power of a dream to bring hope and joy to every First Coast child battling a life-threatening illness. The organization is not associated with any national organization and receives no state or federal funding.  Since 1984, more than 3,000 dreams have been fulfilled thanks to the efforts of Dreams Come True.  Children are referred by their physicians to the organization and range in age from 2 ½ to 18.  There is no waiting list and no child has ever been denied a dream by the organization.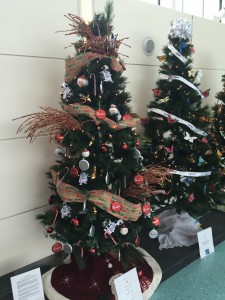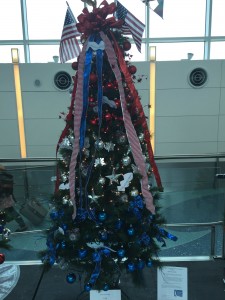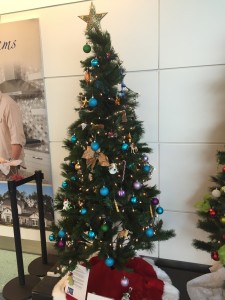 The following businesses and organizations are sponsoring trees in this year's contest: Dreams Come True, Signature Flight Support, Synovus Bank, Comfort Zone Spa, Lindsey Pest Services, Chick-Fil-A at River City, Hyatt Place, River City Marketplace Parkway Shops- Ramco Gershenson Inc., HMS Host, Doubletree at Jacksonville Airport, Boston's at River City, Pet Paradise at Jacksonville Airport, Stratton and Company, 121 Financial Credit Union, Springhill Suites at Jacksonville Airport, TSA, Gator Club of Jacksonville, Prime Flight, Visit Jacksonville, Air Ground Logistic, Inc., Edible Arrangements at Duval Station Rd., Southwest Airlines, RS&H, American Airlines, Florida Blue Center, Jax Metro Credit Union, Johnson Controls, Delta Airlines, Jet Blue, JAXPORT, Silver Airlines and United Airlines.
Ballots are located at the main entrance and by the trees located on the connector bridge for travelers and customers to cast their vote for their favorite decorated tree.  Each votes costs $1.00 and all proceeds will be presented to Dreams Come True by the JIAMC at one of the council's monthly meetings following the New Year. Voting concludes on DATE. If you're traveling in the interim, stop by and cast a vote for your favorite tree!