It's a tradition spanning over 20 years. It's one of our favorite traditions, and a favorite of our tenants and customers. It's definitely a favorite of the students who perform, who love performing in such a unique environment – AND getting some time off from school!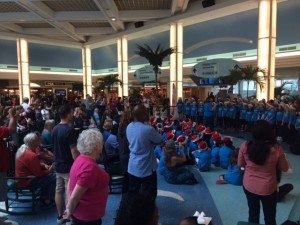 The Holiday Music Program lasts a short two weeks – the two weeks just before the schools' Christmas break. Public and private school groups perform in the center courtyard of the airport to the delight of the passengers, meeters and greeters, and tenant employees. This year, over 35 elementary, middle and high school groups participated, along with other music groups.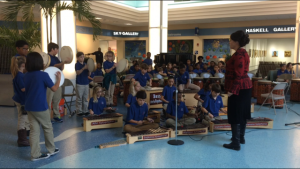 The performances include choral groups, school bands, and orff bands.

What a great way to showcase the incredible talent of our First Coast students to harried travelers from all over the country. Many slow down, smiling at the adorable elementary students wearing Christmas hats. Others stop to listen and marvel at the seemingly professional-level performance of a middle school jazz band filling the courtyard with jazzy renditions of Christmas classics.
There are groups who just play string instruments, and other groups whose only instruments are their voices – or their hands and feet!

It is certainly the most wonderful time of our year!
The popularity of the Holiday Music Program led to the creation of a Spring Music Program. The Spring program coincides with the week of The Players Championship, when there is a larger number of travelers and golf fans moving through the airport. School groups perform their spring programs for a different kind of audience, and they really enjoy it. Passengers enjoy the novelty of listening to mini-musicals while heading to baggage claim, or to catch a flight.