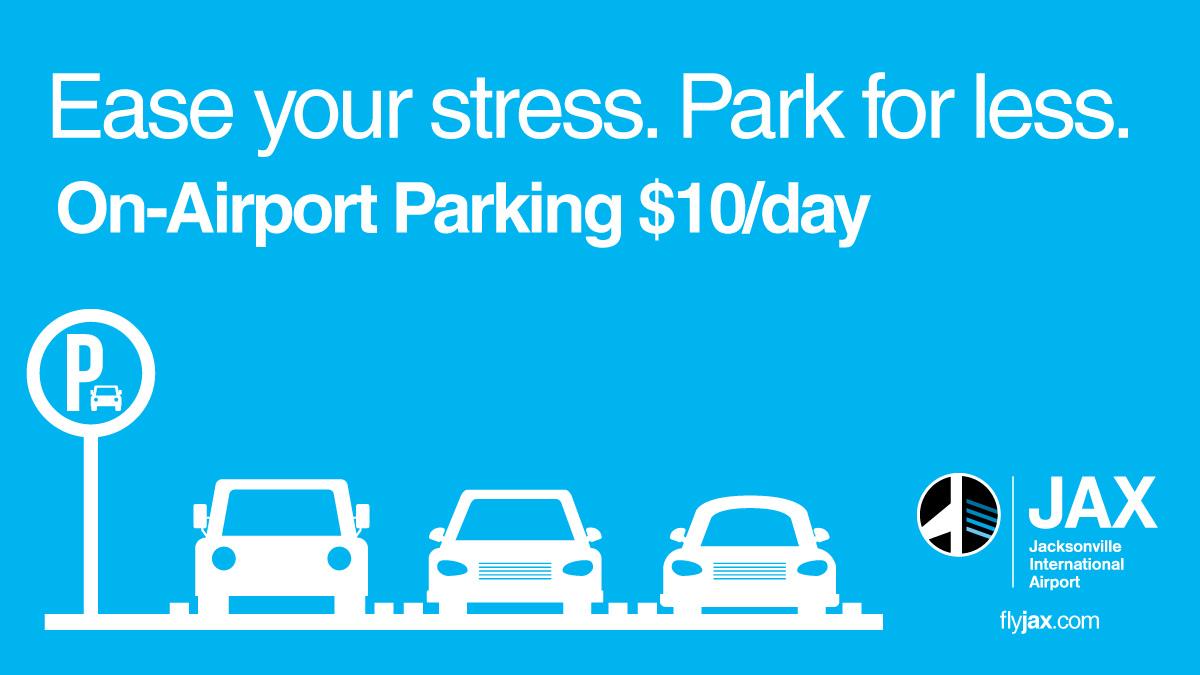 The Jacksonville Aviation Authority (JAA) will temporarily consolidate parking resources at Jacksonville International Airport (JAX) and dramatically reduce on-airport parking rates in the Daily/Hourly Garages and the Daily Surface Lot effective Tuesday, April 28.
Parking in the Hourly and Daily Garage will now cost $10/day, with parking in the Daily Surface Lot reduced to $7/day. These temporary rates are commensurate with what JAA charged nearly 20 years ago for parking at JAX in 2002.
While parking rates are reduced, all three economy lots will be closed. Doing so will help minimize the potential spread of COVID-19 on shuttle buses, which are frequently cleaned. The rate reduction to the Hourly/Daily Garages and Daily Surface Lot allows travelers to affordably park within walking distance of the terminal while safely adhering to social distancing guidelines.
"COVID-19 has not diminished our efforts to make air travel safer, more convenient, and more affordable for our customers. I am especially proud of our team for mobilizing quickly to consolidate our parking resources, making parking options closer to the terminal more affordable. We remain in close contact with local, state, and federal officials and our industry colleagues to look for additional ways to serve our customers and protect public health," said JAA CEO Mark VanLoh.
For returning customers needing transportation to their cars in the economy lots, pick-up will be available on an on-call basis. Signs will be posted providing contact information for shuttle service.
Hourly Garage
Daily Garage
Daily Surface Lot
Time
Cost
Time
Cost
Time
Cost
Per 30 mins (up to 2.5 hours)
$2.00
Per 30 mins (up to 2.5 hours)
$2.00
Per 30 mins (up to 1.5 hours)
$2.00
2.5-24 hours (first day)
$10.00
2.5-24 hours (first day)
$10.00
1.5-24 hours (first day)
$7.00
Subsequent days
$10.00
Subsequent days
$10.00
Subsequent days
$7.00
Previous daily rate
$22.00
Previous daily rate
$18.00
Previous daily rate
$11.00