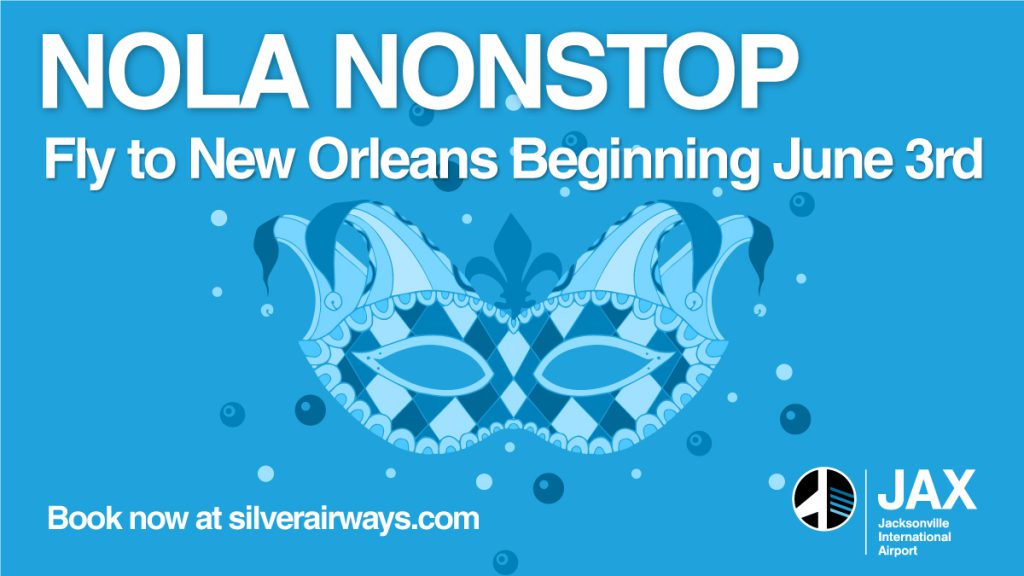 [Jacksonville, FL – 06 April 2021] – Silver Airways will offer new, nonstop flights from Jacksonville International Airport (JAX) to Louis Armstrong New Orleans International Airport (MSY) starting June 3 with an introductory fare of $79 the airline announced in a press release this morning.
Silver will offer twice weekly service to MSY on Thursday and Sunday. On both days, the flight will depart JAX at approximately 11:35 a.m. EST, arriving in New Orleans at 1:05 p.m. CDT. It will then depart from New Orleans at 1:45 p.m. CDT and arrive back in JAX AT 5:10 p.m. EST. Silver will operate the nonstop route with a 70-seat ATR 72-600.
"New Orleans is one of our most requested leisure destinations," Jacksonville Aviation Authority (JAA) CEO Mark VanLoh said. "We are so excited that Northeast Floridians now have a nonstop flight from the Bold City to the Big Easy."
The new service announcement comes one day after the Airport Authority reopened Economy Lot #1, in anticipation of an uptick in summer travel and updated guidance from the Centers for Disease Control and Prevention (CDC) on travel. The lot opened on the same day that an estimated 7,500 passengers flew out of Jacksonville – the highest single day for travel out of JAX in more than a year.
Today's announcement is also on the heels of new additional service from Silver Airways. Since December, they have added new nonstop flights from Jacksonville to Tampa, Ft. Lauderdale and Greenville-Spartanburg. Please note that all scheduled times are subject to change. For fares, reservations, comprehensive flight schedules and more information, visit http://www.silverairways.com.