Imagine a world without volunteers. Those who give of their time and talents to lend a hand to their communities. What a barren, lonely, confusing, sad landscape it would be. The same can be said about JAX without our airport ambassadors. They offer harried customers calm assistance with directions, finding lost items, helping with a wide variety of issues.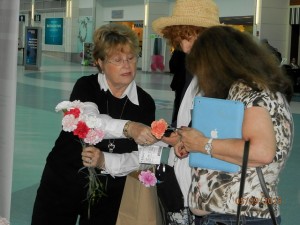 Our 55 ambassadors gave more than 9,400 hours of volunteer time in 2015. Without them, we wouldn't be the customer-friendly airport we strive to be. What they provide to our customers is reflected in JAX being ranked 3rd in 2014 and 2nd in 2015 for customer service satisfaction in the Airport Service Quality awards.
During National Volunteer Appreciation Week from April 10 – 14, we'll celebrate our ambassadors with special treats each day. Because we don't want to spoil the surprise, we won't go into detail here about what we're doing for them, but it pales in comparison to what they bring to our customers.
See an ambassador? Thank an ambassador! They love "Going Beyond, Daily" to make your day! If you're interested in becoming an airport ambassador, visit our website to learn more about the program.