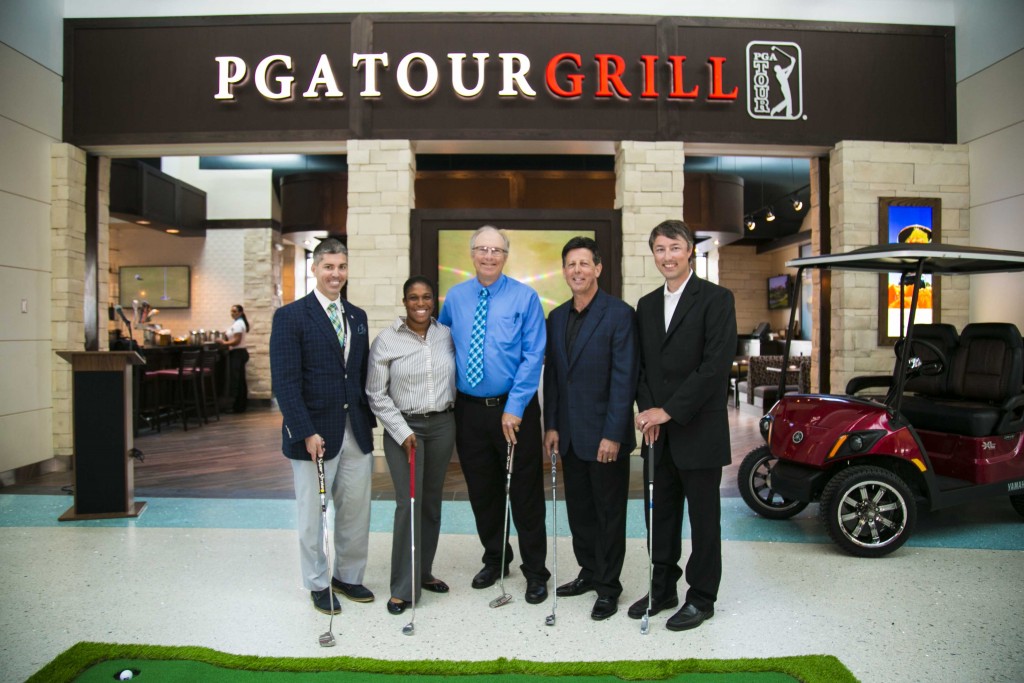 Tee time is set and the food and drinks are ready at PGA TOUR Grill – the newest dining destination at Jacksonville International Airport. Developed by global restaurateur HMSHost in partnership with the PGA TOUR®, PGA TOUR Grill brings a bold and innovative dining experience to Jacksonville travelers. Located in Concourse C, PGA TOUR Grill combines the beloved sport of golf with great food and celebrates the motto "Eat Smarter, Play Harder."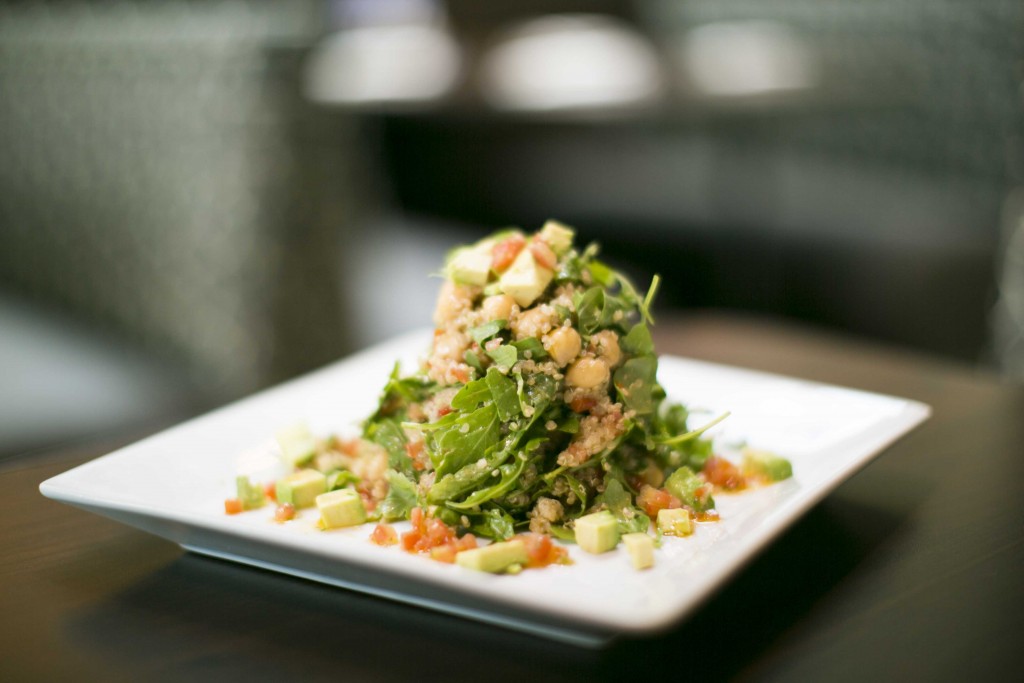 The airport was abuzz with the grand opening of this newest location celebrated by a team of PGA TOUR representatives, along with HMSHost and joint venture partner Lee Wesley Group, LLC, and Jacksonville Aviation Authority executives. With THE PLAYERS® Championship being held May 11-14 at TPC Sawgrass in nearby Ponte Vedra Beach, the opening is a timely greeting for players, caddies, and fans from around the world coming to take in the tournament or play at one of the many renowned courses found throughout Florida's First Coast.
"With the PGA TOUR national headquarters in nearby Ponte Vedra Beach, and some of the country's top golf destinations in the local region, Jacksonville International Airport is the perfect location to bring the PGA TOUR Grill experience to the millions of visitors and locals flying in and out of airport," said HMSHost Vice President of Business Development Stephen Douglas. "HMSHost is excited to continue our partnership with Jacksonville International Airport and our joint venture partner, Lee Wesley Group, LLC, to enhance the airport with the best dining choices in the industry."
"The PGA Tour Grill highlights Northeast Florida's golf scene, one of our region's main leisure attractions," Jacksonville Aviation Authority CEO Steve Grossman said. "Restaurants such as these are one of the many reasons JAX was voted North America's #1 airport for customer satisfaction."
PGA TOUR Grill's atmosphere gives travelers an inside look at the region's golf history, including pictures of TPC Sawgrass through the restaurant, and adds a new dimension to the airport's dining program. Golf-centric travelers won't miss any action happening on the green as PGA TOUR Grill features numerous big-screen televisions showcasing live championship action, previous week's tournament highlights, and Golf Channel programming.
PGA TOUR Grill is a beacon for those who enjoy golf or those who simply enjoy sports and a fresh and healthy meal. PGA TOUR Grill's menu was created by HMSHost executive chefs with a focus on using healthy ingredients for every menu item. Dishes like the Power Salad take this to task with nutrition-packed ingredients including quinoa, marinated tomato, roasted peppers, garbanzos, arugula, avocado, and herbs. The menu denotes heart healthy and gluten-free dishes to accommodate specific dining desires of guests.
"We are thrilled to bring PGA TOUR Grill to the Jacksonville International Airport and The First Coast, home to the PGA TOUR, THE PLAYERS Championship and the World Golf Hall of Fame," said Lance Stover, the PGA TOUR's Senior Vice President of Licensing & New Ventures. "We've been extremely pleased by the success and growth of the PGA TOUR Grill concept, thanks to the expertise of HMSHost. The First Coast has such a rich golf history which we look forward to celebrating while offering visitors the great healthy food choices for which the PGA TOUR Grill is known."
Whether you just completed the challenging 17th hole, "Island Green", at TPC Sawgrass or had a rough finish at your closing hole, this clubhouse style restaurant will put you at the top of the leaderboard and makes for a great finish to your trip.
HMSHost and the PGA TOUR opened the first PGA TOUR Grill at San Diego International Airport in 2014 and have expanded to nearly ten locations at airports across the United States. In addition to PGA TOUR Grill, HMSHost operates other traveler food and beverage favorites at Jacksonville International Airport, including Shula's Bar & Grill and Starbucks®. A full list can be found on the HMSHost Location Finder.