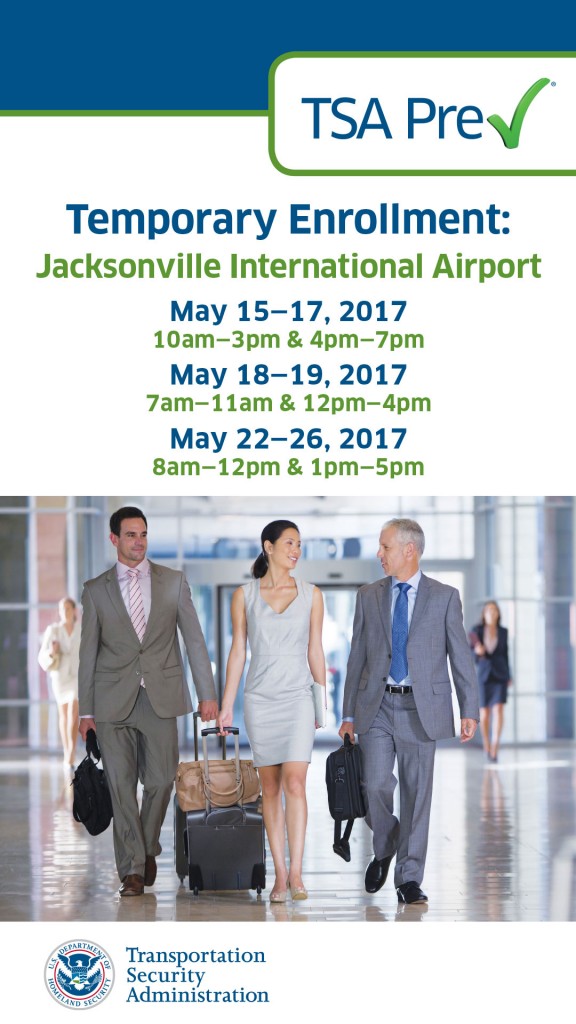 Jacksonville International Airport (JAX) will open a temporary office for travelers wishing to sign up for the Transportation Security Administration (TSA) Precheck program. Just in time for the busy summer travel season, passengers can enroll in TSA Precheck at the airport terminal from May 15 – May 26.
TSA Precheck allows individuals to travel securely and efficiently without having to remove items such as shoes, belts and light jackets or liquids and laptops from their luggage.
Passengers can begin the application process online now, then make an appointment to complete enrollment in TSA Precheck at a pre-security office located near the information booth in the terminal.
Appointments can be made for the following dates and times:
May 15 – 17: 10:00 a.m. – 3:00 p.m. and 4:00 p.m. – 7:00 p.m.
May 18 – 19: 7:00 a.m. – 11:00 a.m. and 12:00 p.m. – 4:00 p.m.
May 22 – 26: 8:00 a.m. – 12:00 p.m. and 1:00 p.m. – 5:00 p.m.
Only after obtaining a "Known Traveler Number" (KTN) will passengers be able to use the TSA Precheck lane. Receiving the KTN could take several days.
"TSA Precheck is a great way for passengers to ease the transition through security checkpoint when they travel to and from JAX." said Jacksonville Aviation Authority (JAA) CEO Steve Grossman. "We are delighted to provide this convenient option to travelers coming through our airport."
For additional information or to enroll in TSA Precheck, please visit www.tsa.gov/precheck.