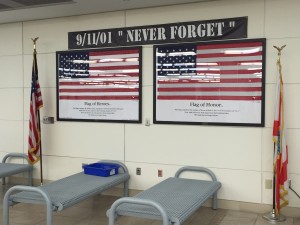 Danny Connell, an Electrical Foreman for the Jacksonville Aviation Authority remembers 9/11, but he also had a memorable encounter the day before.
"President Bush was arriving in Jacksonville on September 10," Connell said. And since Danny had a photo of himself with the president, he was hoping to have it autographed.
That morning, Governor Jeb Bush was in the terminal waiting for his brother to arrive. Connell worked up the courage to approach him.
Connell: "Governor, I would like you to do a favor for me."
Jeb: "Oh, would you like me to autograph your picture?"
Connell: "Actually, I was hoping you could get your brother to sign it."
Connell said Jeb was very kind and courteous, and told him to write his name and address on an envelope. A few moments later, Air Force One arrived. Connell recalls Jeb walking to meet it with the envelope in his hand. They departed Jacksonville and headed for Sarasota.
The next day was 9/11.
His day started off normal, working out on the air field. After a few hours, he came in the shop for a break. The television was on, and a building was on fire. Amid the confusion, Connell started getting phone calls from friends and family. Then the second plane hit.
"We all knew what was going on then," he said.
After that, "Our supervisor called us all together for a meeting and told us to hang tight until further notice," Connell said. "It was so hectic. Your blood was pumping, yet you felt helpless."
As they waited, the Federal Aviation Administration (FAA), began to ground flights, and JAX received diverted aircraft. The airport also closed.
One thing Connell vividly recalls were the Florida Air National Guard's (FANG) F-16s. "Once they got all the diversions, FANG took four of their jets and put two of them on each runway, he said. They were continually running and ready to go.
Taking advantage of inactive runways and taxiways, Connell and his crew performed routine maintenance on the movement area. "It was our responsibility to make sure the airport could become operational at any time."
"It was a very difficult time," Connell said. "You could tell it was heavy on everybody's hearts."
In the days that followed, the airport reopened, and flights slowly started again. On September 17, Connell got a call from his wife, who told him a big brown envelope had arrived from the Governor's office.
It was the photo he had given Governor Bush on September 10th. On it was an autograph from President Bush with an inscription that read: "To Danny, Best Wishes"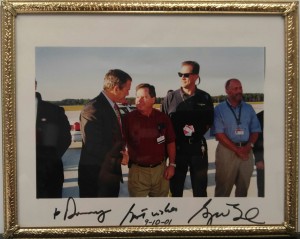 In light of the previous week's events, Connell had but one thought: "No, best wishes to YOU, Mr. President."