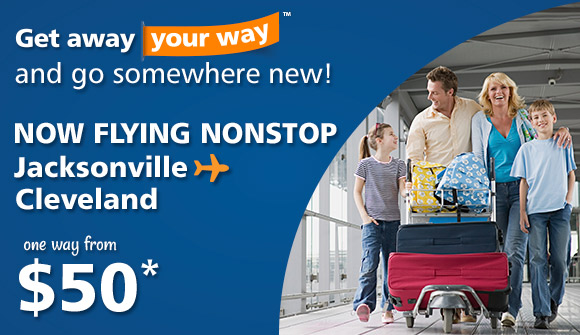 In a press release issued this morning, Allegiant announced new nonstop service from Jacksonville International Airport (JAX) to Cleveland-Hopkins International Airport (CLE). The new service will begin on February 16, 2017 with an initial introductory fare as low as $50.
"Today's route announcement is yet another indication that Allegiant is growing in Northeast Florida," Barbara Halverstadt, Jacksonville Aviation Authority (JAA) Marketing Director said. "These nonstop flights help connect Jacksonville to some of our most-requested destinations."
Since entering the Jacksonville market, Allegiant has added service to Pittsburgh, Cincinnati, Belleville (St. Louis), New Orleans, Columbus, Richmond and Memphis.
Book your nonstop flight to Cleveland on Allegiant's website.
*One way per person. Includes taxes and fees.